Nadine Richards' Little Red House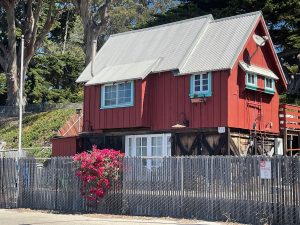 Do you know the little red house at the south end of the Embarcadero, near the boat launch at Tidelands Park? From the launch, look east to the bluff, behind the fence.
We need to preserve this unique part of Morro Bay's history. The current owners need to either move it or demolish it because there isn't room on the little lot to build the new house they want AND keep Nadine's. They have offered to give the LRH to the Historical Society, but we need to raise the money to move it to a new foundation. We hope you can help! Contact us about making a donation for this important project.
A Short Story About the LRH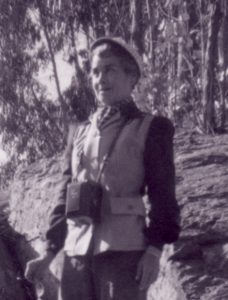 The top half of the little house at 683 Embarcadero was first built at 285 Main Street by Nadine Richards in the early 1940's as a cottage for herself to live in. Nadine did all the work herself, including making pieces of lumber for framing, siding and installing windows. After World War II she built the lower level for a studio on a piece of land her parents owned that became available because the Navy had built the new land of the Embarcadero in 1942 and 1943. In about 1952/1953 she moved the cottage building to the studio location and (somehow!) got it on top of the studio, creating the two-story shape it now has.
Nadine lived in the cottage, working as an artist and poet, for many years. She was an active part of the Morro Bay artist colony, working with people like Aaron Kilpatrick, Charles Robinson, Harold Knott and Charlotte Skinner, and weaver Miles Castle. In fact, Castle provided plumbing services to Nadine at one point, helping make her cottage more comfortable. In 1996, when Nadine had grown old and frail and needed money for her care, she sold the house and lot to the current owners, ending a 35-year residence on the Embarcadero. She and her house are definitely important parts of Morro Bay's history. We are grateful to Nancy Farrell and Betsy Bertrando of Cultural Resource Management Services for the research and report we have relied on to bring the little red house to you.