Franklin Riley Park Project
A New Park for Franklin Riley
For a very long time, there was no public tribute to Morro Bay's American founder, Franklin Riley, except for a small plaque next to the stump of a giant blue gum eucalyptus near the eastern end of Morro Bay Boulevard. The plaque commemorates Riley's planting of a double row of the eucalyptus along the street in 1875.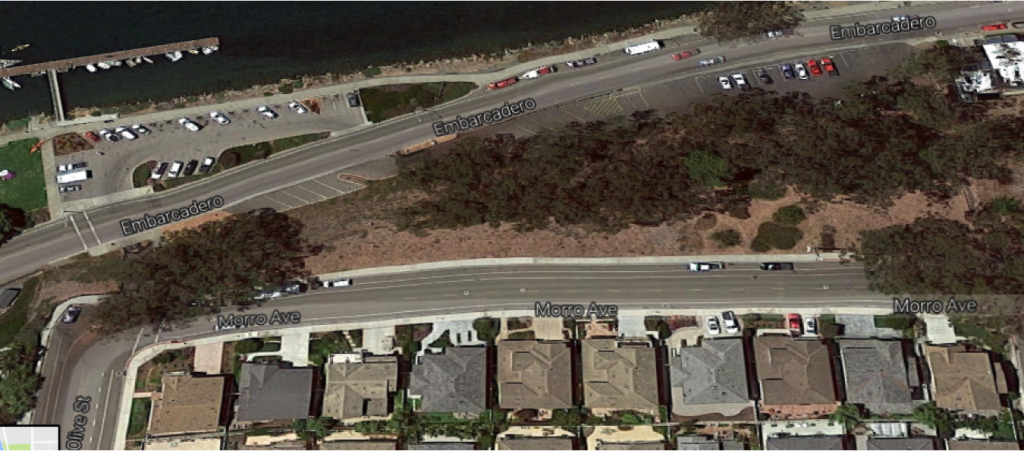 The stump is what remains of the last of the trees Riley planted, taken down because it was so large and old that people feared for nearby structures if it fell. This isn't much of a tribute to the man who laid out the street grid that still defines downtown, and worked to develop the new town.
So members of the Historical Society were very receptive when Councilman Red Davis proposed naming a park after Riley. We had some discussion about which park to name, including City Park. Some members were resistant to changing the name of the triangular park
at Harbor and Morro Bay Boulevard because it's also part of our history.
But then-President Linda Estes suggested naming a small, mostly undeveloped piece of land on the bluff top between South and Olive streets. This little parcel overlooks Tideland Park and has a few benches plus some stairs down to the waterfront. It is probably just south of the area that Riley actually homesteaded, but it's really close to that. Because it sits on the top of the bluff, the parcel represents what Riley was looking at in the 1870's when he was dreaming about setting up a new town. There is also a huge blue gum tree on the north end of the park with a circumference, we are told, of 26 feet. This tree may not actually have been planted by Riley, but it's in the right place for that are big enough. It makes a good story, at any rate.
As good luck would have it, the parcel is owned by the City and does not (yet) have a name.
The HSMB board voted to pursue working with the City to name the parcel after Franklin Riley. Of course, there is a process for that. First we had to file an application and make a presentation to the Recreation and Parks Commission urging them to make the name change.
The Commission gave us a big thumbs up and sent the proposal to Council. Finally, Council approved the idea. Franklin Riley has a park.
Our next step is to raise funds to create signage for the park. We intend to install a sign to identify the park and also a Hidden History interpretive panel to tell Riley's story. In addition, we will also want to tell the story about Riley's tree planting on a panel somewhere near the big tree.
Beyond that, who knows? Debi Dismer wants to build a replica of Riley's first house on the site.
What do you think?