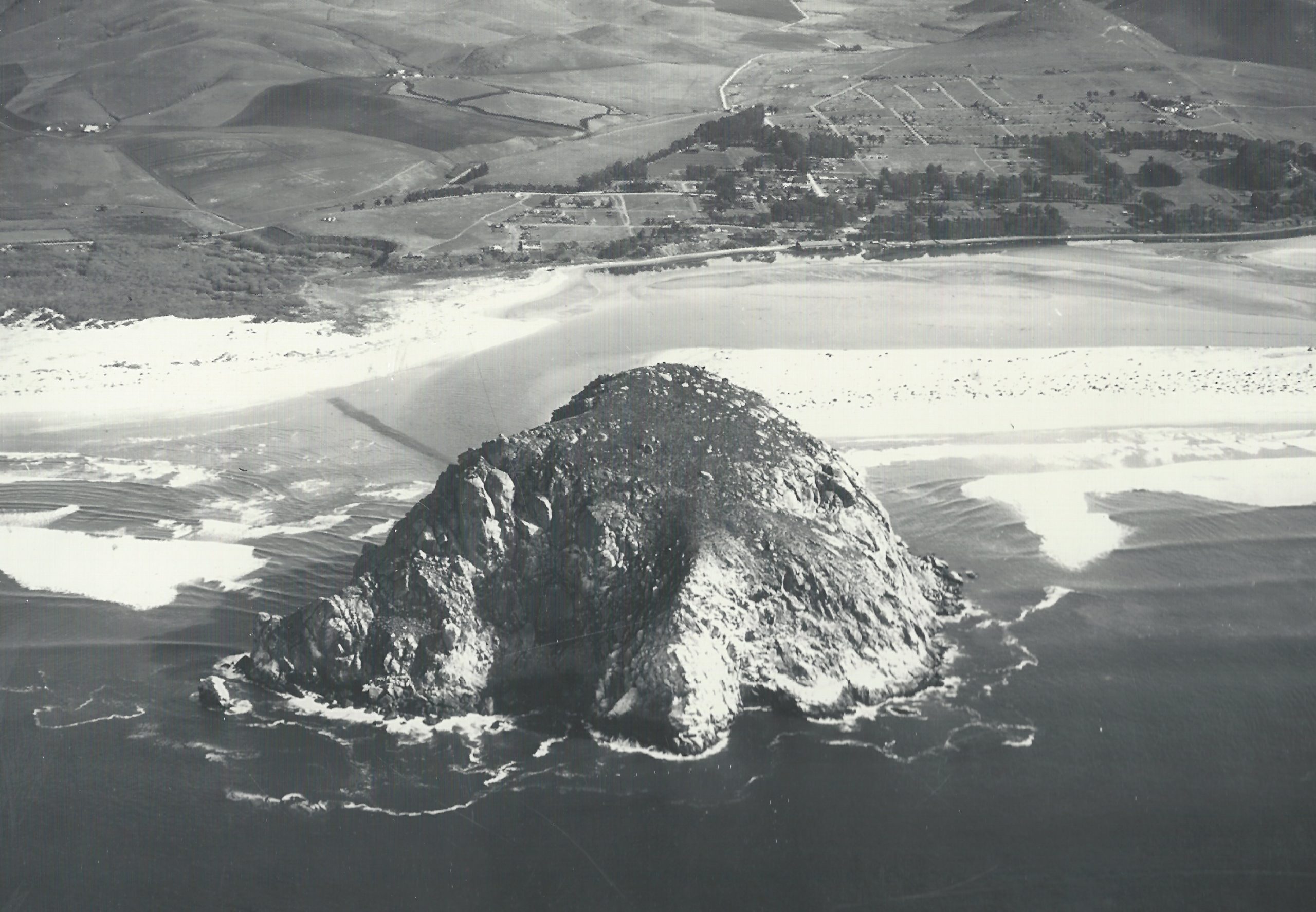 1912 Aerial Morro Rock View
Quarried rock is loaded to barges from the causeway east of Morro Rock. The shallow estuary is not yet lined with boats.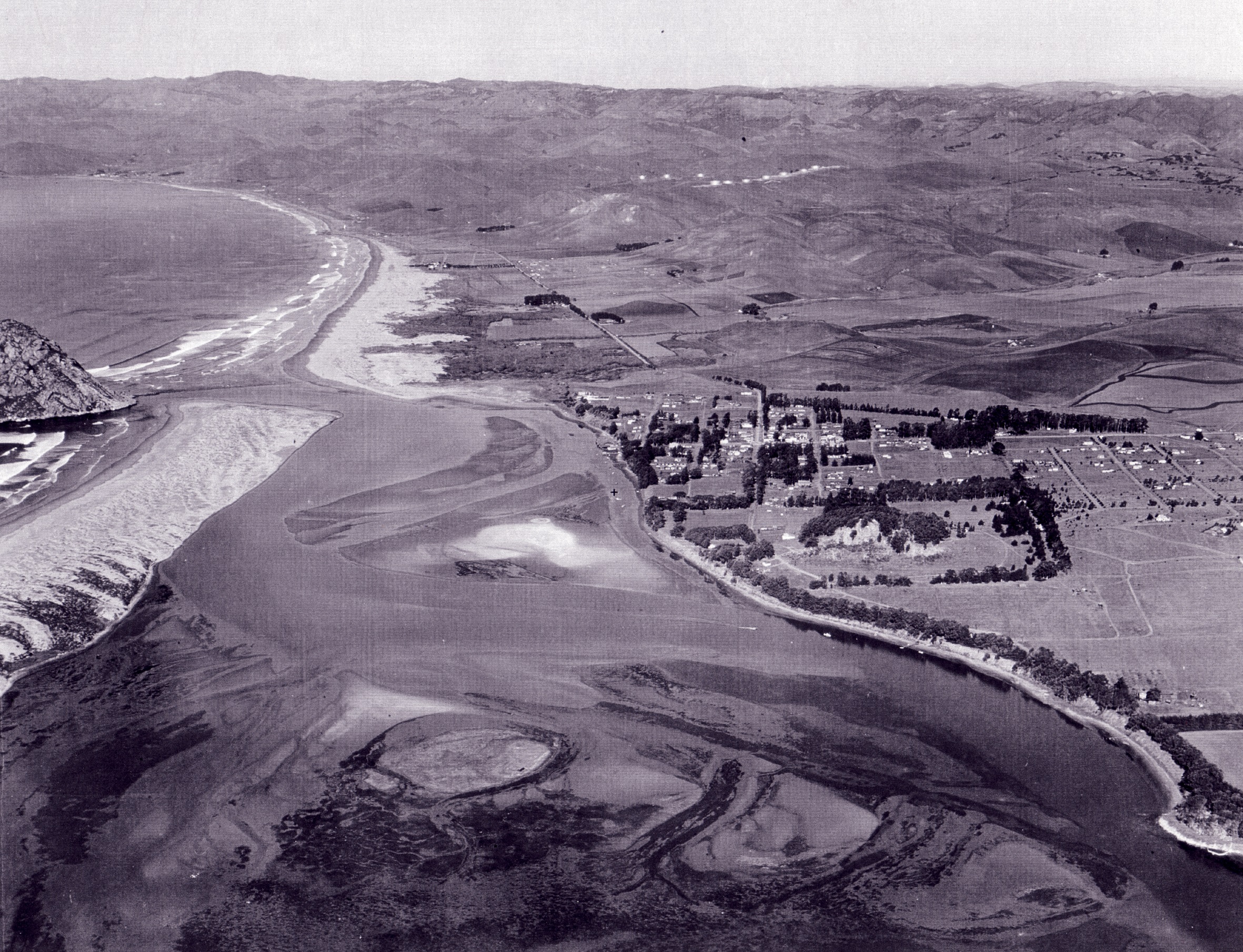 Late 1930's Aerial
The pre-WWII waterfront has little activity, with the Standard Oil tank farm in the hills above north Morro Bay ready to load tankers in Estero Bay north of the Rock.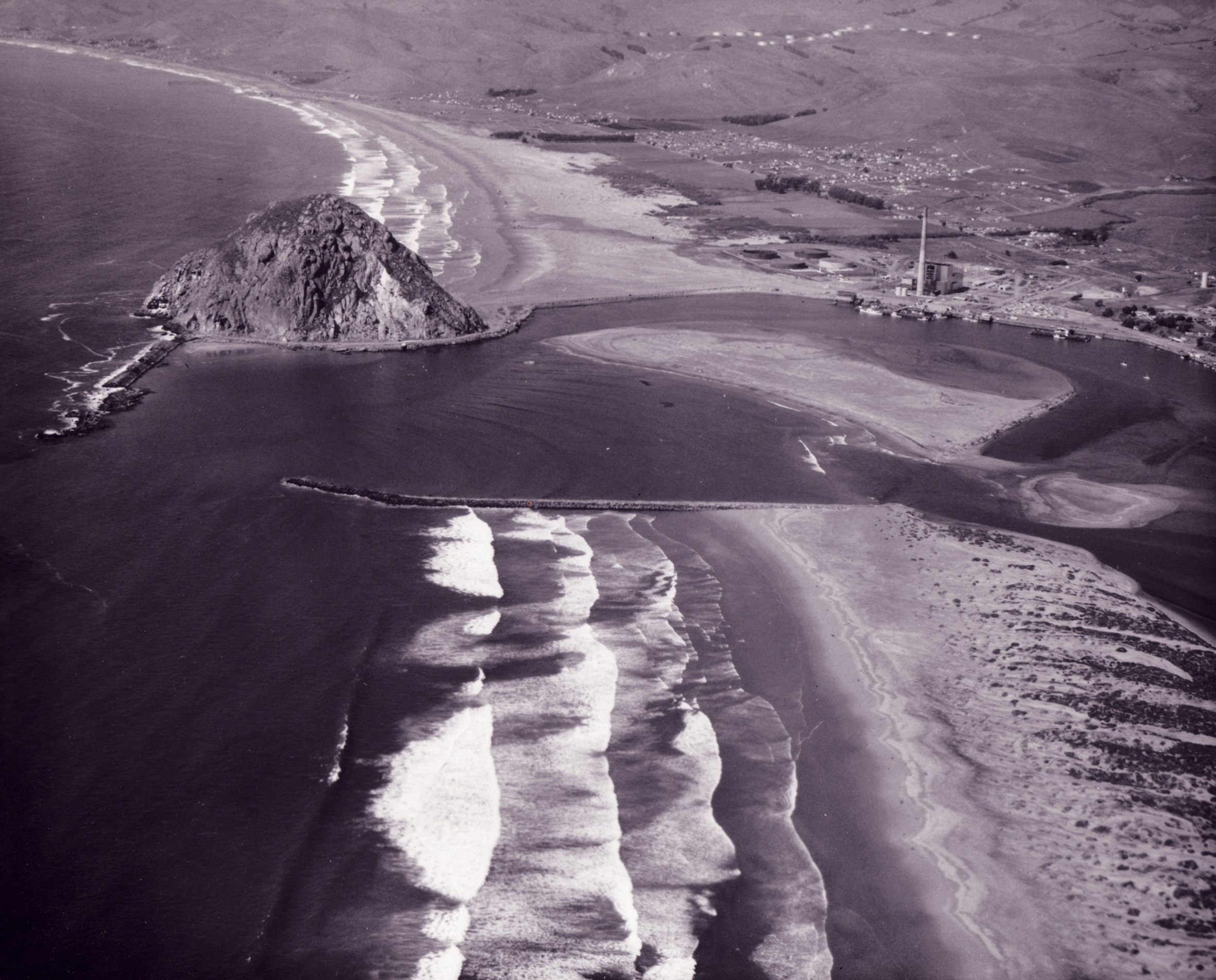 c 1955 Aerial
Storms have damaged the harbor entrance built by the Navy, but the revetments and infrastructure for boats and fishing remain. A single stack is ready for the first stage of the new PG&E power plant.

For a very long time, there was no public tribute to Morro Bay's American founder, Franklin Riley, except for a small plaque next to the stump of a giant blue gum eucalyptus near the eastern end of Morro Bay Boulevard. The plaque commemorates Riley's planting of a double row of the eucalyptus along the street in 1875. The stump is what remains of the last of the trees Riley planted, taken down because it was so large and old that people feared for nearby structures if it fell. This isn't much of a tribute to the man who laid out the street grid that still defines downtown, and worked to develop the new town.
Our next step is to raise funds to create signage for the park. We intend to install a sign to identify the park and also a Hidden History panel to tell Riley's story. In addition, we will also want to tell the story about Riley's tree planting on a panel somewhere near the big tree. To learn more about this project click here. 

This photo of two men spending their day clam digging in Morro Bay during low tide was taken in the early part of the 1900's. The men are approximately where State Park Road is today below the Natural History Museum. Fishing, clamming and oyster farming are part of our deep aquatic history!
The new/old San Salvador, replica of Cabrillo's galleon that sailed past the Morro Bay coast in 1542.
This is an old photo of Morro Rock taken prior to it being quarried. You can see the southern section clearly had a slope without the dramatic drop that is there today. We are fascinated by the history of our community!